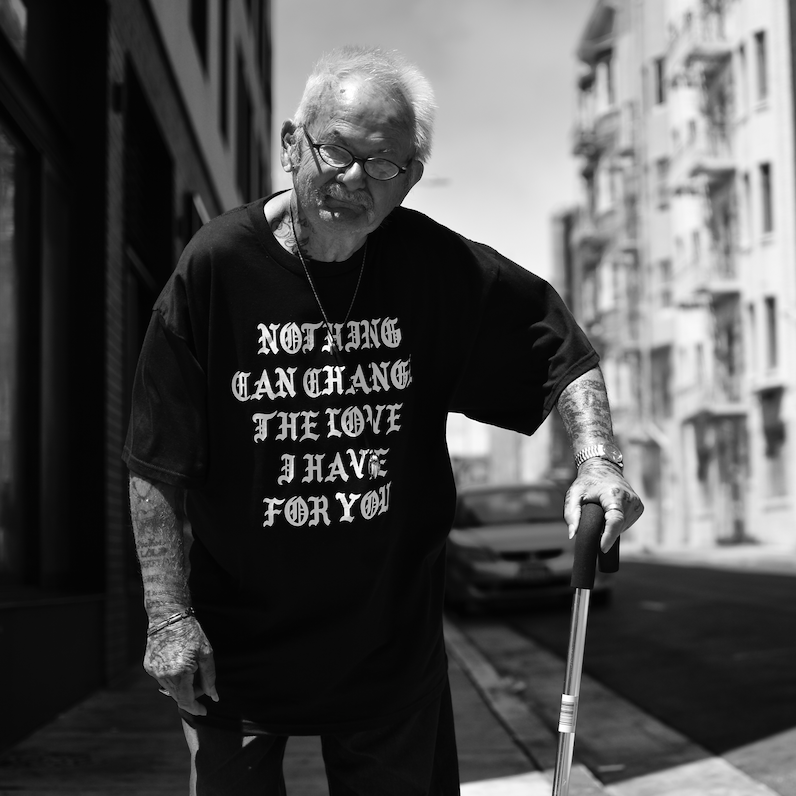 Our latest t-shirt collaboration features our friend and neighbor, Marvin Ransom.

Marvin is a long-time Tenderloin resident who is known by some for his extensive t-shirt collection. His tastes range from rascally gaudy to downright poignant. Some he buys off-the-rack, but he also designs many himself.

These 1-of-1 t-shirts that Marvin designs usually display short phrases that explore the universal themes of love, community, and spirituality. The text is large: you can read it from across the street or down the block. These pieces of prose on t-shirts cause one to stop and reflect for a moment or two, just like the best art can.

Tilted Brim worked with Marvin to design a capsule collection based on Marvin's own 1-of-1 customs. The collection consists of two t-shirts and a crewneck sweatshirt.

T-shirts will be available in-store on 7/7/22 during Tenderloin First Thursdays, 6-10pm.

Crewneck sweatshirts will be available in-store only -- by silent auction -- same date/time as the t-shirts. Proceeds will benefit Marvin directly.

Remaining t-shirt stock will be available online on 7/8/22.